NCC:
The National Cadet Corps (NCC), is the Indian Miltary Cadets Corps with its Head Quarter at New Delhi. It is the largest uniformed youth organization of the world established in 1948 by the National Cadet Corps Act, 1948 under the Ministry of Defence (MOD). It is open to school and college students on voluntary basis. The cadets are given basic military training in small arms and parades. The officers and cadets have no liability for active military service once they complete their course but are given preference over normal candidates during selection based on the achievements in the corps. Its motto is 'UNITY AND DISCIPLINE' which was adopted on 23rd December, 1957 and is engaged in grooming the youth of the country into disciplined and patriotic citizens.

Aim:
The aims of NCC as approved by the Ministry of Defence are as under:
To develop character, comradeship, discipline, leadership, secular outlook, spirit of adventure, sportsmanship and ideals of selfless service among the youth of the country
To create a human resource of organised, trained and motivated youth, to provide leadership in all walks of life and always be available for the service to the nation
To provide a suitable environment to motivate the youth to take up a career in the Armed Forces.

Cardinal Principles of Discipline:
Obey with a smile
Be punctual
Work hard and without fuss
Make no excuse and tell no lies
Pledge:
"We the cadets of the national cadet corps, do solemnly pledge that we shall always uphold the unity of India. We resolve to be disciplined and responsible citizens of our nation. We shall undertake positive community service in the spirit of selflessness and concern for our fellow beings"
NCC Flag: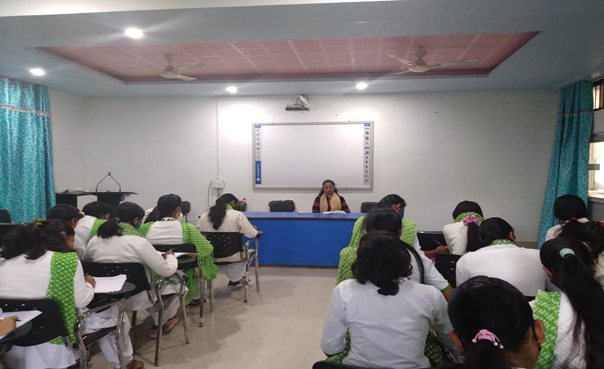 The NCC flag for various units was first introduced in 1951. The flag was of same pattern, colour and size as was used by various regiments of the Army. The only difference was that it had the NCC badge and unit designation placed in the centre. Later on it was felt that the flag should be in keeping with the inter-service character of the Corps. In 1954 the existing tricolour flag was introduced. The three colours in the flag depict the three services of the Corps, red for the Army, deep blue for the Navy & light blue for the Air Force. The letters NCC & the NCC crest in gold in the middle of the flag encircled by a wreath of lotus, give the flag a colorful look & a distinct identity.
Role of NCC:
To train students in developing qualities like social service, team spirit, leadership, discipline and self confidence.
To develop national spirit among the students.
To make the cadets acquaint with the Army/ Air Force and Navy.
To make the cadets better citizens.
To inculcate spirit of adventure amongst the cadets.
Certificates:
Senior Division and Senior Wing:
C' Certificate is the highest recognition of training and qualification of a Senior NCC cadet
'B' Certificate is the initial recognition of training and qualification of a Senior NCC cadet

College Details:
Lakhimpur Girls' College NCC Girls' unit was started in the year 1977 only with a few cadets. The present strength of cadets is 65. 1st Year 25, 2nd Year 21 and 3rd year 19. Every year 20 cadets are enrolled in this unit. Presently it is under 72 Assam Girls (Independent) Coy NCC, North Lakhimpur, Assam 1977 under 72 Assam Girls (Independent) Coy NCC, North Lakhimpur, Assam. Dr. Subhanjali Prasad Das, Assistant Professor, Department of Political Science is the Care Taking Officer (CTO).

Training:
Regular activities like Drill, Rifle Drill, Map Reading, Weapon Training, Field Craft and Battle Craft etc. are being imparted to the cadets as per the syllabus framed by the NCC Directorate for North Eastern Region.
Camps:
Republic Day Camp (RDC)
Basic Leadership Camp (BLC)
Army attachment Camp (AAC)
Annual Training Camp (ATC)
Thal Sainik Camps(TSC)
Vayu Sainik Camps(VSC)
Nau Sainik Camps(NSC)
Rock Climbing Camps(RCC)
National Integration Camps(NIC)
Special National Integration Camps(SNIC)
Inter Group Camps(IGC)
Other Activities:
1. Awareness campaign on
a) Evils of use of plastics.
b) Inequality faced by the girl child.
c) Empowering women
d) Hand wash & personal hygiene.
e) Cleanliness drive to different places of town like park, road, College Campus etc.
f) Cleaning of water bodies in local areas.
g) Awareness on social distancing norms.
2. Nukkad Nataks on different social & environmental issues.
3. Camp Training on
4. Statue Cleaning/ Sharamdan (Cleaning of historical monuments etc.)
5. Drawing, Essay Writing, Poem Recitation, Slogan Writing and Poster making Competition.
6. Lecture series on different social issues.
7. Paintings (Wall & Tree painting etc.)
8. Tree Plantation.
9. Sports & Adventure activities.
10. Fit India.
11. Clean India.
12. Cleanliness drives at old age home.
13. Yoga for Peace and Harmony.
14. Mass Awareness Rallies.
15. Disaster management related activities etc.
16. Celebrating special occasions like Children's Day (Distribution of sweets and cloths at orphanage house), Gandhi Jayanti, Constitution Day, Vijay Divas, NCC Day Celebration etc.
Our students had participated in Basic Leadership Camp , Army attachment Camp, Rock Climbing Camps and National Integration Camps. Our NCC unit had also participated in Independence Day and Republic Day parade held at district level. Cadets Gun Gun Saikia and two others had achieved first position in a district level competition among NCC Unit 'Swaccha Bharat Summer Internship' organised by 'Lakhimpur Zila Pani Aru Anamoy Samity', North Lakhimpur, Public Health Department under Swaccha Bharat Abhijan (Rural) during 10th June to 31st July, 2019. The cadets were awarded cash prize of Rs.30, 000/- and an Appreciation Certificate.

Through NCC, we aim to Groom our students into models of discipline and patriotism. Develop in them character, commandership, leadership, secular outlook, spirit of adventure and selfless service. Transform them into trained and motivated human resource who will lead the nation in all walks of life. Motivate them to join the armed forces and serve the nation. We provide opportunity to join NCC, take part in all its activities, which include, besides regular parades and camps, community development and social service programmes etc. Our students are encouraged to join the NCC and thereby enhance their career potential and take advantage of preferential consideration in defence as well as civil recruitment.