Welcome to the Lakhimpur Girls' College Central Library. We remain dedicated to enhancing your information experience. Thus, we want to encourage all members of our College community to visit us to discover our document collections, to be awed by their brilliance, and above all to use them. Our library plays a vital role in the dissemination of knowledge through our significant document collections, outstanding services, modern technologies, and dedicated staff. Our Library motto is providing the right information at the right time both manual and electronic.
Lakhimpur Girls' College possesses a beautiful, well managed and air conditioned central library which is situated on the first floor of the main building. It is equipped with books and periodicals to satisfy under-graduates and postgraduate curriculum, researchers and other references. The library is offering access to CD-ROM databases, e-mail, and the Internet. The SOUL 2.0 package developed by INFLIBNET, Gandhinagar, Ahmedabad, had been installed in the library computer system and now the library is fully computerized.
The library also has the 'D-Space' digital library software. It has been installed to organise, manage and provide access to institutional repositories and other digital versions of resources viz. college magazine, college annual News Letter, etc. have been stored and made easily accessible to the users.. The processing work of scanning different Institutional Repositories has also been initialized by the library. It is a part of digitalization of the central library. Every year N-List of Inflibnet is renewed for greater benefits of the readers.
The modern system of classification of books is used in the Library. The reading room in the central library has a sitting arrangement for more than 100 students. There are separate arrangements for the teachers and the students. Every year the library authority organizes orientation programmes for fresh students. Besides the central library, various departments have their own departmental libraries. Recently college authority has decided to renovate the entire library, purchase of CBCS based latest edition books and startup of a digital library under RUSA 2.0 scheme and the processing work is going on in full swing.
Vision: To develop, organize and provide the services to meet the needs of users. To explore and to implement innovative technologies and services to deliver information conveniently to users at the right time, right way and right place.
Mission: To promote intellectual growth and creativity by developing collections, effective use of information resources and offering research assistance.
Library Staff
| | | | |
| --- | --- | --- | --- |
| Sl No | Name | Designation | Qualification |
| 1 | Mr Dipankar Saikia | Librarian | M.LI.Sc, M.Phil. |
| 2 | Vacant | Library Assistant | |
| 3 | Ms Khirada Saikia | Library Bearer | B.A. |
| 4 | Vacant | Library Bearer | |
| 5 | Mr Mintu Rajbongshi | Temporary(Contractual) | H.S.L.C. |
Library collections
1

Number of printed books including reference books

20864

2

Number of e-books

via N-List

3

Number of print periodicals

18

4

Number of e-journals

via N-List

5

Number of news papers

English=3

Assamese=6

Hindi=1
List of Periodicals:
Biology Today, Physics for You, Mathematics Today, Chemistry Today, Women's Era, India Today, Swaistho (Assamese), GNRC Swaistho (Assamese), Prantik (Assamese), Goriyoshi (Assamese), Sananda (Assamese), Competition Success Review, University News, International Journal of Home Science, Indian Literature, Oitijyo (Assamese), The Dream

List of Newspapers subscribed:
English: The Assam Tribune, The Hindu, Times of India, Employment News
Hindi: Purbanchal Pahari
Assames: Asomiya Pratidin, Amar Asom, Doinik Jonombhumi, Asom Adityo, Niyomiya Barta, Doinik Asom
E-resources
1. Inflibnet NLIST
2. D-Space (in-house repository)
Rules and Regulations
Library working hours (Closed on Sunday and holidays)

Library hours

9.00 am-4.30 pm

Issue/ Return hours

9.00 am-2.00 pm
Library book borrowing rules

Category

No of books
issued

Loan period

Overdue charges

Faculty members

7

15 days

Rs. 1.00 per day

Administrative staff

5

15 days

Rs. 1.00 per day

Major students

5

15 days

Rs. 1.00 per day

HS students

3

15 days

Rs. 1.00 per day
Admission to the Library is restricted to students, faculties and staff only.

Membership of the library can be obtained by filling up a prescribed form obtained from the library.

The only personal belongings allowed inside the library are laptop, notebook and pen.

Mobile phones are not allowed inside the library.

Students should enter the library with proper uniforms.

Library cards are compulsory for issuing books. Issuing books on others' names is strictly prohibited.

Library books should be handled with care. Any deface, mark, cut or try to mutilate on books may lead to cancellation of the library card and will be charged

for the property.

Library clearance is must before every semester examination.

Photocopying of library books and journals under copyright regulations.

Photography or videography inside the library is prohibited.
Contact:
Mr. Dipankar Saikia, Librarian
Ph. +91 9101989560
Email: dipankarsaikia09@gmail.com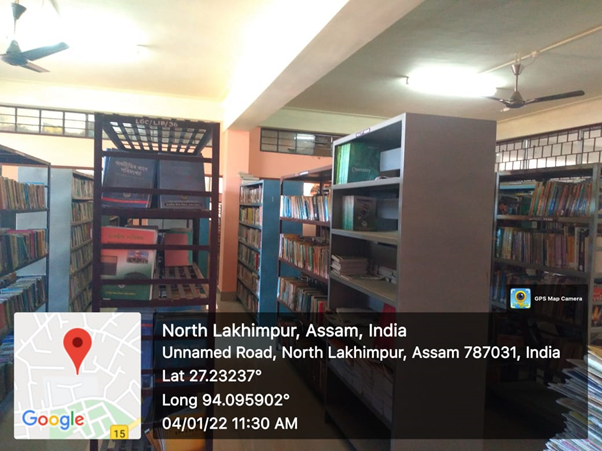 Teachers' Reading Room:
Students' Reading Room: